Create a customised catalogue
Create your own personal catalogue and customise it!
You can give your catalogue a name and add a description.
You will then be able to download your customised catalogue in 3 different formats: PDF, Word and Excel.
You can add several references at the same time: by separating them with a space or by copying and pasting them from an Excel list.
Choose the product order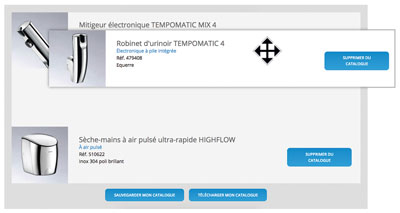 Add to my selection

Remove from my selection

Hotels

Add to my selection

Remove from my selection

Restaurants

Add to my selection

Remove from my selection

Hospitals

Add to my selection

Remove from my selection

Hospitals

Add to my selection

Remove from my selection

Care Home Showers

Add to my selection

Remove from my selection

Shopping centres

Add to my selection

Remove from my selection

Motorway services

Add to my selection

Remove from my selection

Restaurants

Add to my selection

Remove from my selection

Healthcare Shower

Add to my selection

Remove from my selection

Student accommodation

Add to my selection

Remove from my selection

Restaurant kitchens

Add to my selection

Remove from my selection

Shower area camp sites

Add to my selection

Remove from my selection

Leisure centres

Add to my selection

Remove from my selection

Beach showers

Add to my selection

Remove from my selection

Hospital rooms

Add to my selection

Remove from my selection

Shower area camp sites

Add to my selection

Remove from my selection

Restaurants

Add to my selection

Remove from my selection

Shopping centres

Add to my selection

Remove from my selection

Hospital rooms

Add to my selection

Remove from my selection

Restaurants

Add to my selection

Remove from my selection

Public/Commercial washrooms

Add to my selection

Remove from my selection

Tertiary Sector

Add to my selection

Remove from my selection

Washing-up Area Campsites

Add to my selection

Remove from my selection

Hospital Rooms

Add to my selection

Remove from my selection

Ablutions Areas

Add to my selection

Remove from my selection

Treatment room

Add to my selection

Remove from my selection

Public/Commercial urinals

Add to my selection

Remove from my selection

Public/Commercial Urinals

Add to my selection

Remove from my selection

Restaurant toilets

Add to my selection

Remove from my selection

Hotel toilets

Add to my selection

Remove from my selection

Office toilets

Add to my selection

Remove from my selection

Care Home Showers

Add to my selection

Remove from my selection

Hotel Disabled Showers

Add to my selection

Remove from my selection

Swimming Pools

Add to my selection

Remove from my selection

Accessible Toilets for Hotels

Add to my selection

Remove from my selection

Catering & Hospitality Colleges

Add to my selection

Remove from my selection

Safety Showers

Add to my selection

Remove from my selection

Service Stations

Add to my selection

Remove from my selection

Offices

Add to my selection

Remove from my selection

Restaurants

Add to my selection

Remove from my selection

Schools

Add to my selection

Remove from my selection

Schools

Add to my selection

Remove from my selection

Clubs

Add to my selection

Remove from my selection

GP practices

Add to my selection

Remove from my selection

Restaurants

Add to my selection

Remove from my selection

Offices

Add to my selection

Remove from my selection

Shopping centres

Add to my selection

Remove from my selection

Hotels

Add to my selection

Remove from my selection

Changing rooms

Add to my selection

Remove from my selection

Prisons

Add to my selection

Remove from my selection

Hotel lobbies

Add to my selection

Remove from my selection

Hotel lobbies

Add to my selection

Remove from my selection

Clubs

Add to my selection

Remove from my selection

Airports

Add to my selection

Remove from my selection

Museums

Add to my selection

Remove from my selection

Museums - disabled toilets

Add to my selection

Remove from my selection

Gyms

Add to my selection

Remove from my selection

Swimming Pools

Add to my selection

Remove from my selection

Gyms

Add to my selection

Remove from my selection

Campsites

Add to my selection

Remove from my selection

Theme parks

Add to my selection

Remove from my selection

Motorway Service Stations

Add to my selection

Remove from my selection

Educational Establishments

Add to my selection

Remove from my selection

Prisons

Add to my selection

Remove from my selection

Treatment rooms

Add to my selection

Remove from my selection

Treatment rooms

Add to my selection

Remove from my selection

Operating Theatres

Add to my selection

Remove from my selection

Hospitals - Clinics

Add to my selection

Remove from my selection

Care Homes

Add to my selection

Remove from my selection

Hospital rooms

Add to my selection

Remove from my selection

Hospital rooms

Add to my selection

Remove from my selection

Rooms for the elderly

Add to my selection

Remove from my selection

Physiotherapy centres

Add to my selection

Remove from my selection

Tertiary Sector

Add to my selection

Remove from my selection

Tertiary Sector

Add to my selection

Remove from my selection

Tertiary sector

Add to my selection

Remove from my selection

Tertiary sector

Add to my selection

Remove from my selection

Offices

Add to my selection

Remove from my selection

Restaurants

Add to my selection

Remove from my selection

Restaurants

Add to my selection

Remove from my selection

Professional kitchens

Add to my selection

Remove from my selection

Professional Kitchens

Add to my selection

Remove from my selection

Hotels

Add to my selection

Remove from my selection

Hotels

Add to my selection

Remove from my selection

Hotels

Add to my selection

Remove from my selection

Hotels

Add to my selection

Remove from my selection

Offices

Add to my selection

Remove from my selection

Maternity wards